Specs
Model

C96
Layout
96% | ANSI
Case Materials
ABS
Keycap Materials
PBT
Legends Printing

Double-shot
Keycap Profile
Cherry
Keys
100
Hot-Swappable
Yes
N-Key Rollover
Yes
Connections
Bluetooth 5.1 / 2.4GHz / USB-C
(Allows up to 3-device connection)
Operating Systems
Windows / macOS / iOS / Android
Switch Options
Gateron / TTC
Larger Key Style
Plate-Mount Stabilizer
Programmable Drive
Programmable Software
Battery Endurance
50 days
Warranty
12 Months Limited Hardware Warranty
Dimensions

386 x 139 x 39 mm
RGB Backlit

16-Million-Color Modules
Detachable Cable
Separated Keyboard and Cable Management
Rated Input Power
5V⎓1A
Keyboard×1,
Manual×1,
Cable×1,
Dust Cover×1,
2.4GHz Receiver×1,
Keycaps & Switches Puller×1
Which countries do you ship to?

We are generally able to ship to most countries via DHL Express, and many countries via Standard Shipping. You may clarify with our team to see whether Standard Shipping is available to your country.
Note: We can use standard shipping for remote areas determined by DHL Express zip code, but additional remote shipping charges will apply. Of course, there is also the option to use standard shipping at no additional cost, but the time is slower than standard shipping. Click here to read our shipping policy.
Payment & Security
Your payment information is processed securely. We do not store credit card details nor have access to your credit card information.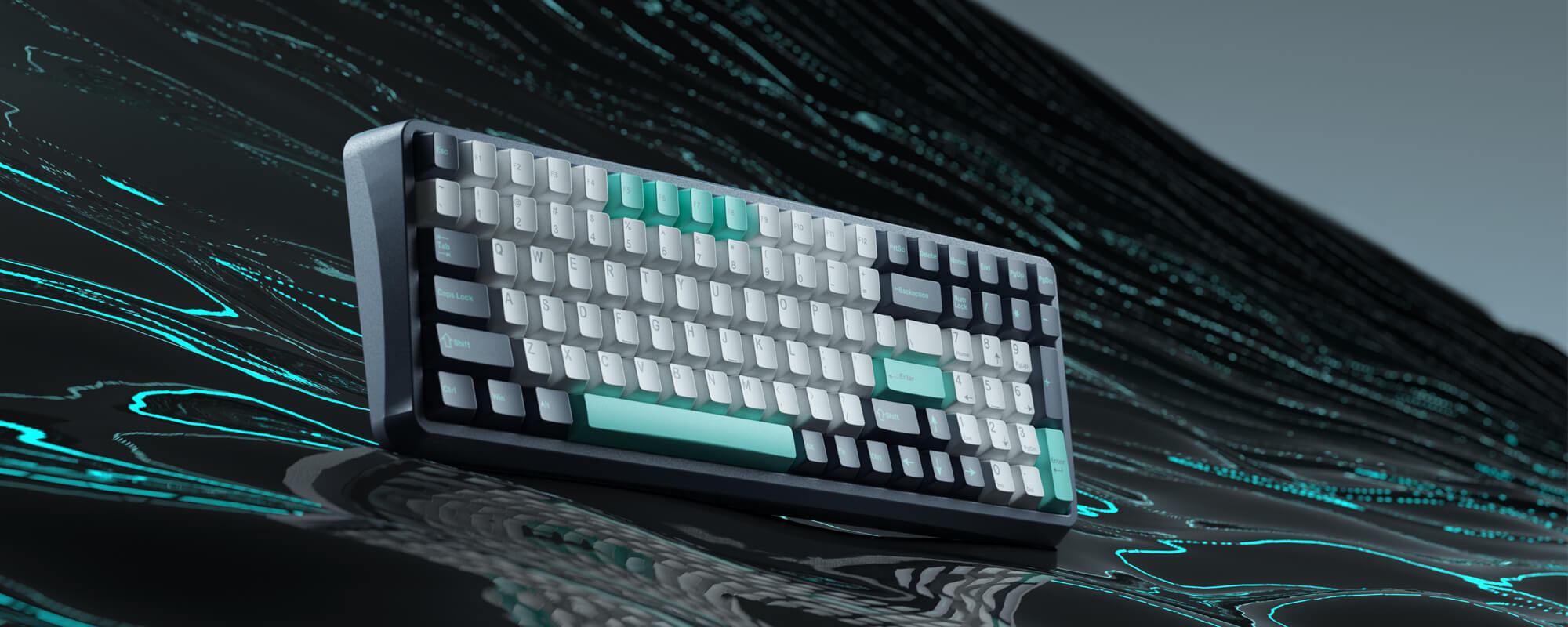 96% Layout And Ergonomic Design
Compact layout with 100 keys. It's a "full-size" keyboard that contains a number pad but frees up desk space. What's more, it emphasizes ergonomic design, and the stepped structure and slanted function keys can reduce wrist strain and fatigue, providing a more comfortable typing experience. Multiple OS Supported.

Internal Structure
C96 smartly uses sound dampening foam throughout its construction. This removes any sense of hollowness or reverberation from the typing experience and instead draws out the sound of the switches themselves, which are quite nice. The stabilizers also come pre-lubed and were mostly good to go right out of the box.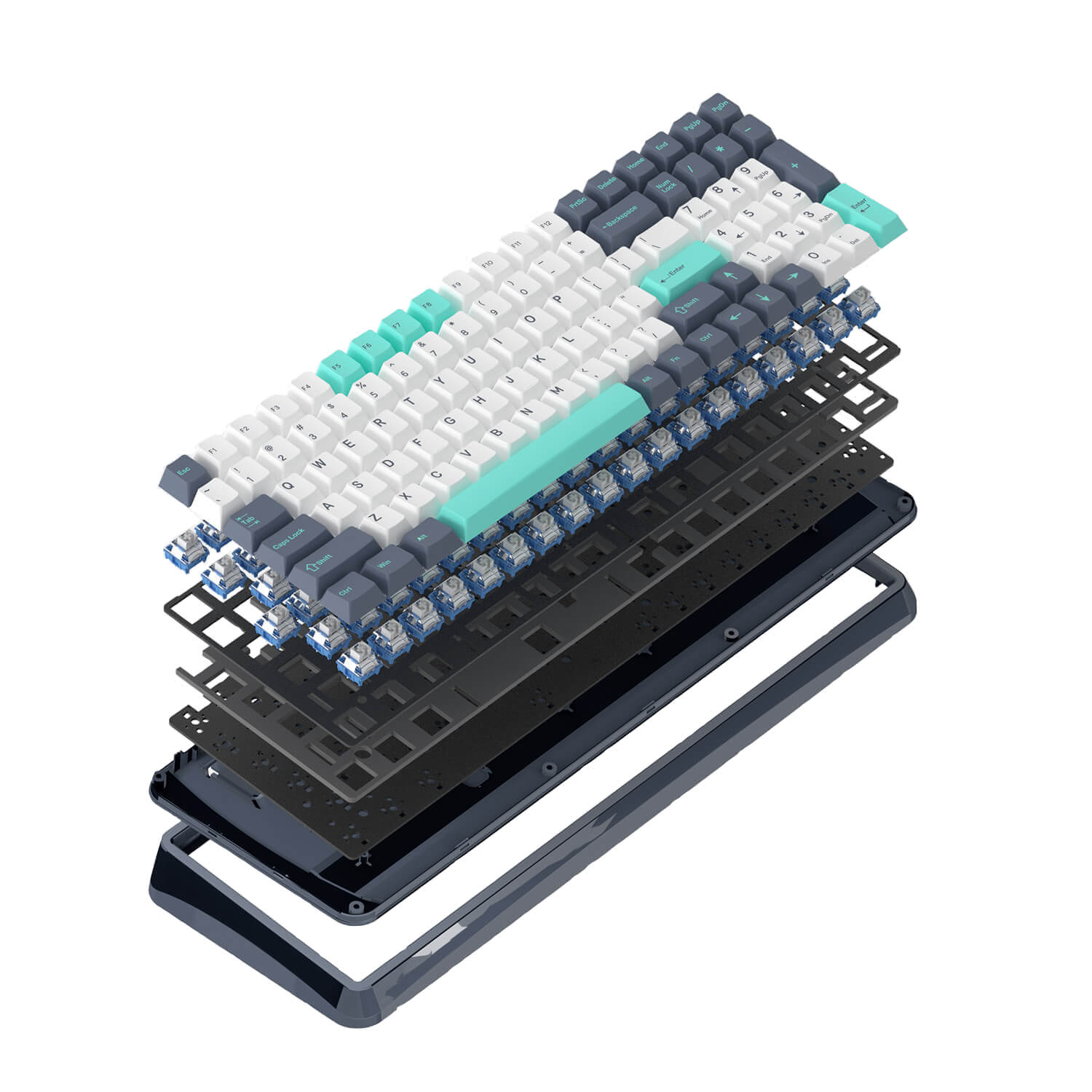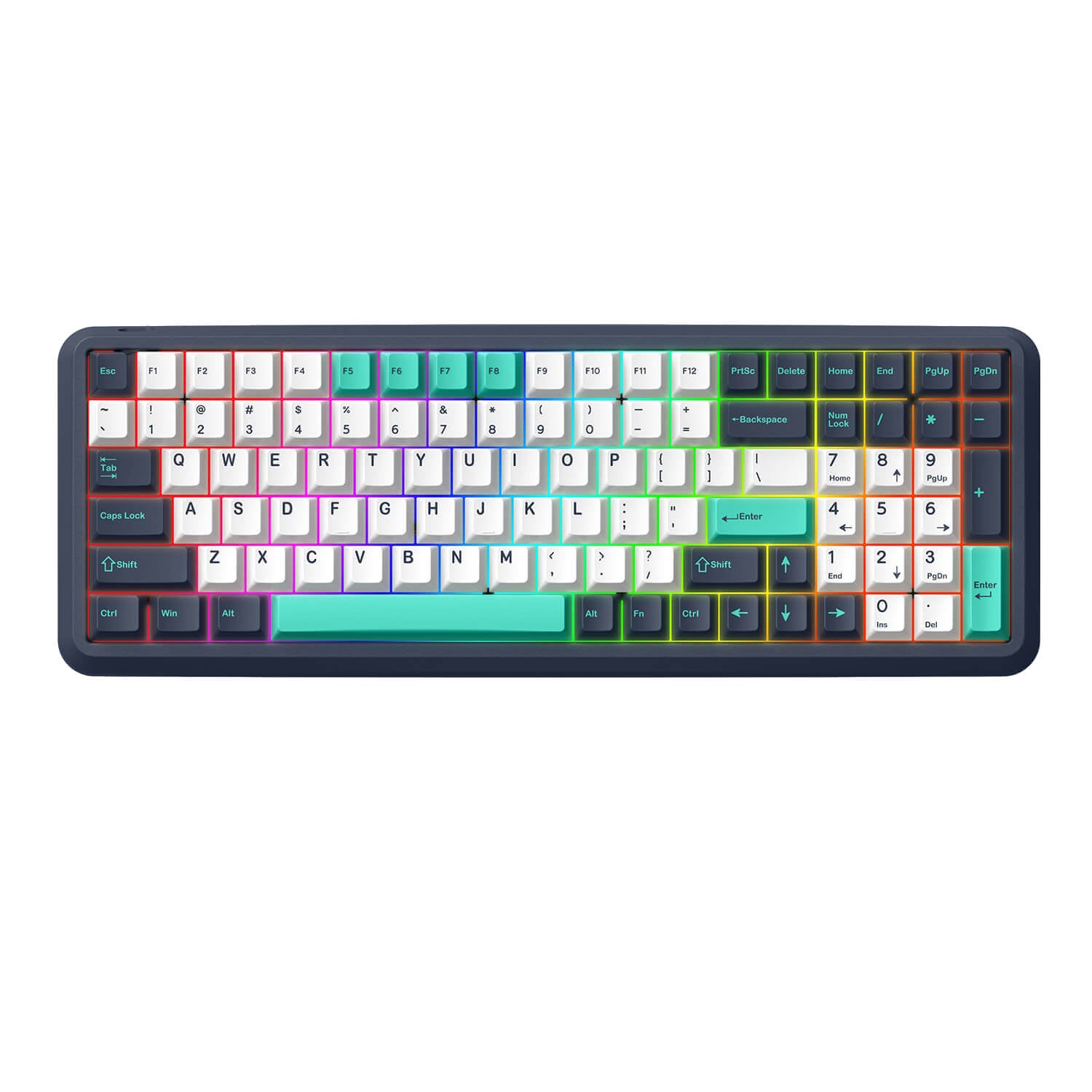 Personalized RGB
Built-in dynamic RGB effect, 7 modes, and 16 million colors can light up your senses. Response Time: 1ms (Wired & 2.4GHz) / 8ms (Bluetooth). Polling Rate: 1000Hz (Wired & 2.4GHz) / 125Hz (Bluetooth)With 7 different types of RGB lighting and the ability to set multiple colors and rhythms simultaneously, you can create a personalized lighting experience that matches your style and mood.
PBT Double-Shot Keycaps
The keycaps are made of PBT plastic and are double-shot, which means the legends are made of a second piece of bonded plastic. They will never fade or shine over time and feel substantial under the finger keyboard.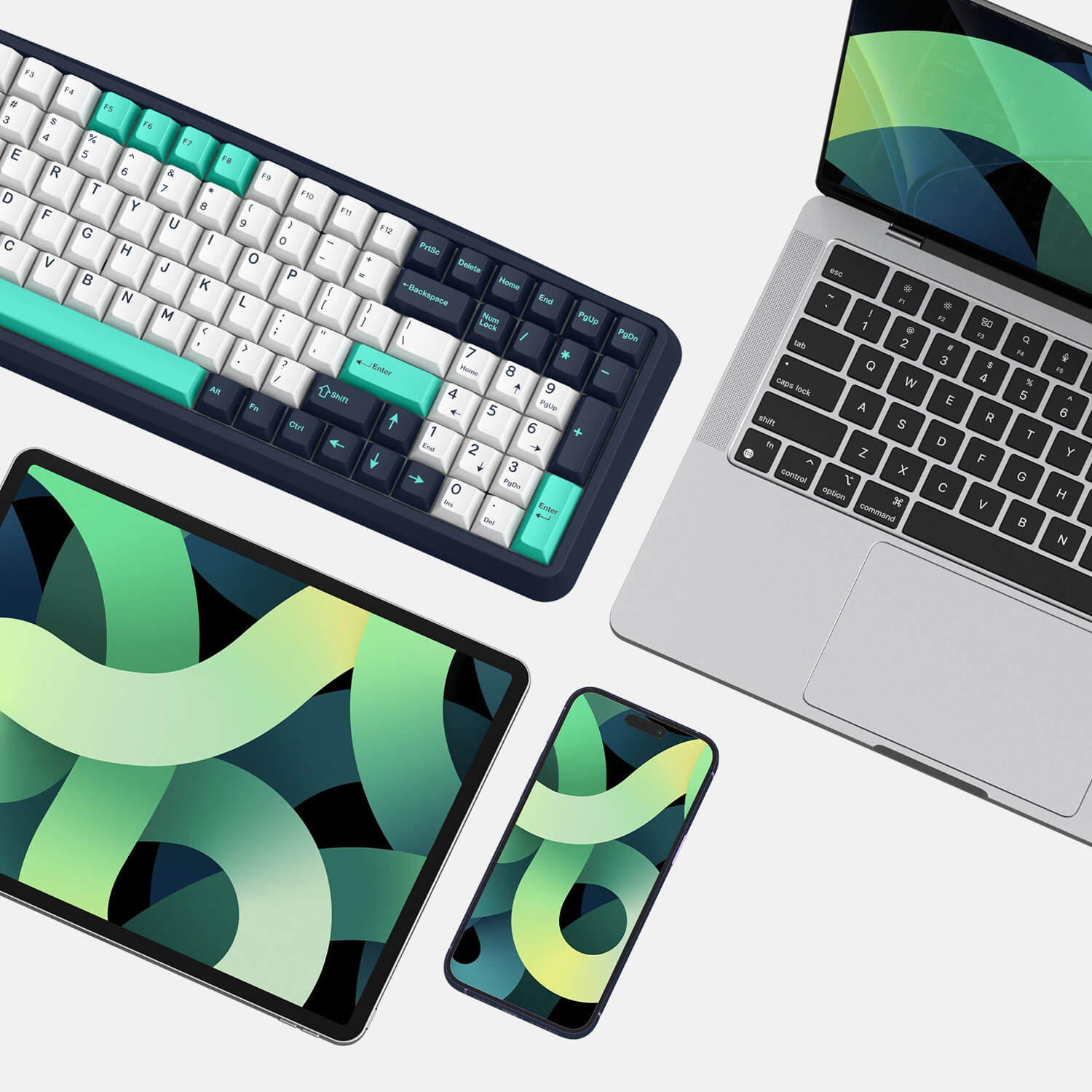 Tri-Mode Connection
Multiple connection modes, including Bluetooth 5.1, Wireless 2.4GHz, and USB Type-C. Enjoy stable and fast responses while gaming or working. Allowing pair up to 3 devices at once and switch seamlessly between your computer, tablet, or phone with shortcut commands, which are great for multitasking. It works on Windows / macOS / iOS / Android.
N-Key Rollover Design
It supports "N-key rollover" that recognizes all key inputs when multiple keys are pressed at the same time. You can use it with confidence not only for everyday use, but also for games that require quick response.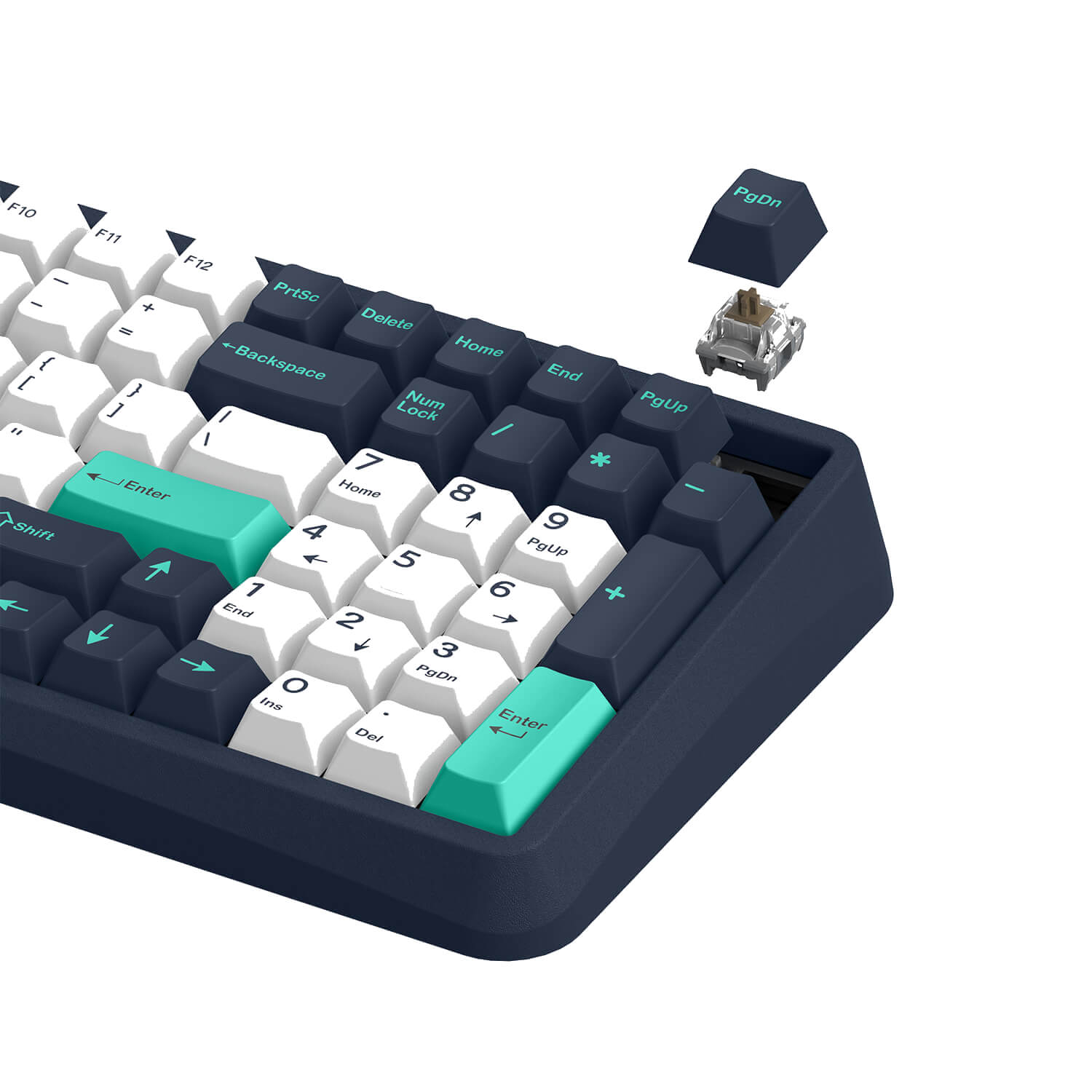 Hot Swappable
Easily swap out your preferred mechanical switches on your keyboard without needing any soldering or technical expertise.
Programmable Software
You can easily customize RGB, remap keys, set macros, and more with our programmable software for your daily use free of restriction.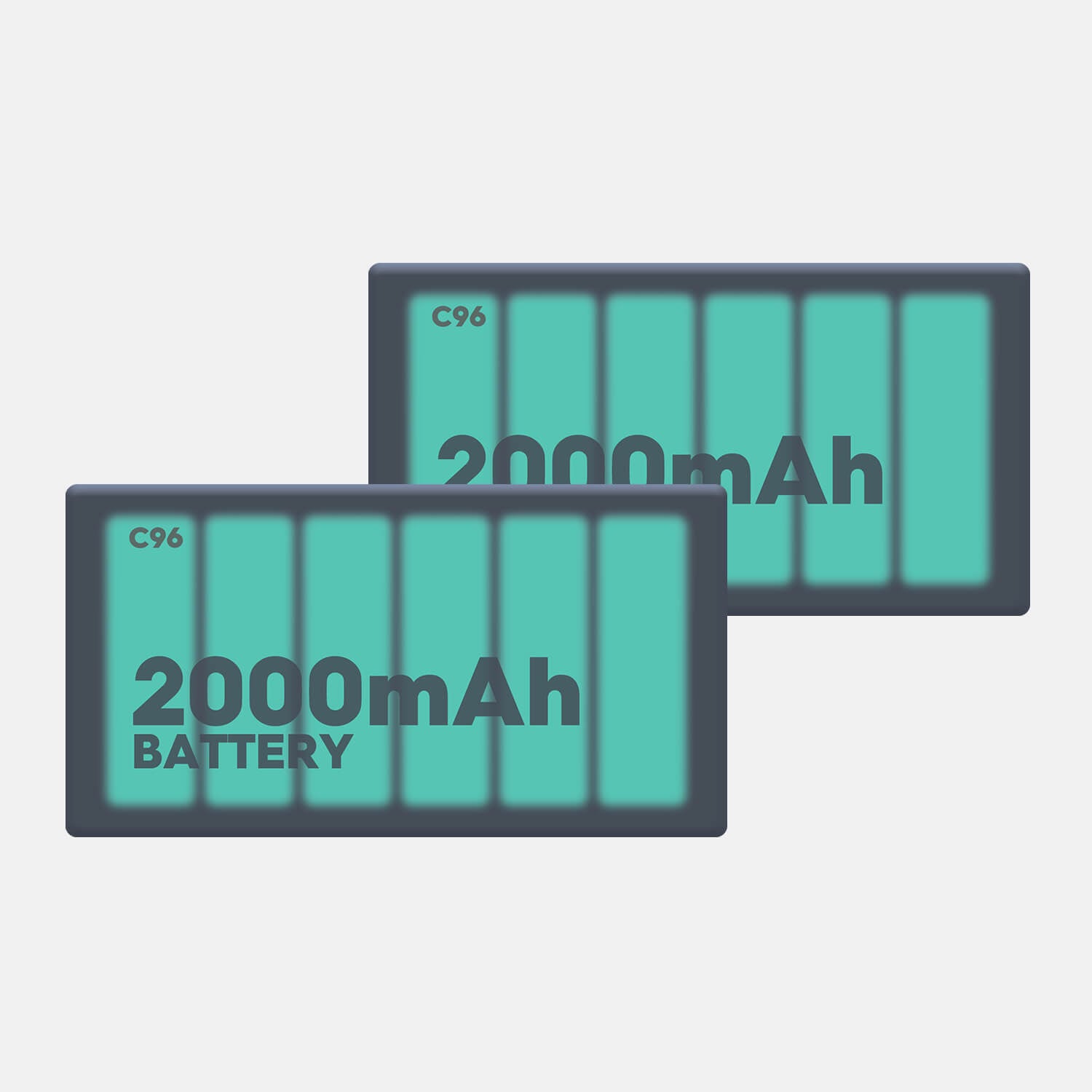 Long-Lasting Battery
The 4000mAh capacity Li-Po batteries last up to 50 days with a low power consumption module. (8 hours of use per day under Bluetooth connection with Backlit off)
Speed Silver faster, more stable, more reliable, prevent touch by mistake.

Linear / 45gf
Feel: Light
Sound: Soft
Lifespan:
100 Million Keystrokes
Gold Pink brisk and smooth. Being a switch with lightest operating force, the switch brings comfort and smoothness to long time typing & gaming.

Linear / 37gf
Feel: Soft and Smooth
Sound: Quiet
Lifespan:
100 Million Keystrokes
Holy Panda it is a switch with a strong sense of tactile, a strong sense of confirmation, smooth but not obtuse.

Tactile / 55gf
Feel: Heavy
Sound: Loud
Lifespan:
50 Million Keystrokes
G Pro2.0 Brown a hybrid between a Linear and Clicky switches. Does not generate a click when pressed, but the tactile bump is still present.

Tactile /55gf
Feel: Medium
Sound: Medium
Lifespan:
50 Million Keystrokes
G Pro2.0 Red it's lighter and softer than brown switches. The ideal switch for long-time typing workers and gamers.

Linear / 45gf
Feel: Light
Sound: Light
Lifespan:
50 Million Keystrokes

G Pro2.0 Blue for those who love the click and clack of a keyboard. Generates a loud click and tactile bump when a key is pressed. Popular for typing and programmers.

Clicky / 60gf
Feel: Heavy
Sound: Loud
Lifespan:
50 Million Keystrokes
G Pro2.0 Yellow it's a very smooth, quiet, vertical pressing sensation with no clicky feel. Good for working in the office, longterm typing, and even gaming.

Linear / 50gf
Feel: Medium
Sound: Medium
Lifespan:
50 Million Keystrokes
Gold Brown Pro is known as the "oil of all kinds" keyswitch. The rhythmic paragraph feel makes the mechanical keyboard more playable.

Tactile / 45gf
Feel: Light
Sound: Medium
Lifespan:
80 Million Keystrokes
Gold Red Pro is the origin of all linear keyswitch keyswitch, straight up straight down linear feel, factory lube, suitable for most people habits, product consistency is high, smooth and stable.

Linear / 43gf
Feel: Smooth
Sound: Quiet
Lifespan:
80 Million Keystrokes
An Impressive Budget Keyboard
I am a novice when it comes to custom keyboards. Prior to purchasing the C96 Dimension C, I was using a Keychron K2 (version 2) keyboard, which is great for productivity. In terms of gaming, it left a little to be desired. This one, however, offers impressive tactile feedback and very satisfying input notes when depressing the keys. It is very weighty and is a great showpiece for any PC gaming setup. Paired with the right custom coiled USB C cable, it can be an item of discussion and envy. At its price point, it can be a great entry point into the world of custom keyboards and may start an obsession with modding and buying more.
Solid Build, but Pricier than I'd Like
The keyboard is a nice 96% keyboard for those who want an entry-level mechanical keyboard with hot swap sockets. Nice options for the switches, but beyond that it seems like a pain to mod.
If you're wanting a basic wireless keyboard with an attractive colorway, this is a definite option.
Best Keyboard I've Ever Owned
I recently purchased the C96 DIMENSION C mechanical keyboard and I have to say, it is truly amazing. I have used many mechanical keyboards in the past, but the C96 DIMENSION C takes the cake. The holy panda switches are a dream to type on - they are smooth and responsive, making for a very enjoyable typing experience.
One thing that sets the C96 DIMENSION C apart from other mechanical keyboards is its build quality. It is very well-constructed and feels very solid, which is important to me as someone who uses my keyboard all day long.
I highly recommend the C96 DIMENSION C to anyone in the market for a new mechanical keyboard. It is truly the best one I have ever used.