Specs
Model

M65
Layout
65% | ANSI
Case Materials
Keycap Materials
PBT
Legends Printing

Double-shot
Keycap Profile
Keys
67
Hot-Swappable

No

N-Key Rollover
Yes
Connections
Bluetooth 5.1 / 2.4GHz / USB-C
(Allows up to 3-device connection)
Operating Systems
Windows / macOS / iOS / Android
Switch Options

Gateron / TTC

Larger Key Style

Plate-Mount Stabilizer

Programmable Drive

Stay tuned

Battery Endurance

Warranty
12 Months Limited Hardware Warranty
Dimensions

356 x 141 x 35 mm
RGB Backlit

16-Million-Color Modules
Detachable Cable
Separated Keyboard and Cable Management
Rated Input Power
5V⎓1A
Keyboard×1,
Manual×1,
Cable×1,
Dust Cover×1,
2.4GHz Receiver×1,
Keycaps & Switches Puller×1
Which countries do you ship to?

We are generally able to ship to most countries via DHL Express, and many countries via Standard Shipping. You may clarify with our team to see whether Standard Shipping is available to your country.
Note: We can use standard shipping for remote areas determined by DHL Express zip code, but additional remote shipping charges will apply. Of course, there is also the option to use standard shipping at no additional cost, but the time is slower than standard shipping. Click here to read our shipping policy.
Payment & Security
Your payment information is processed securely. We do not store credit card details nor have access to your credit card information.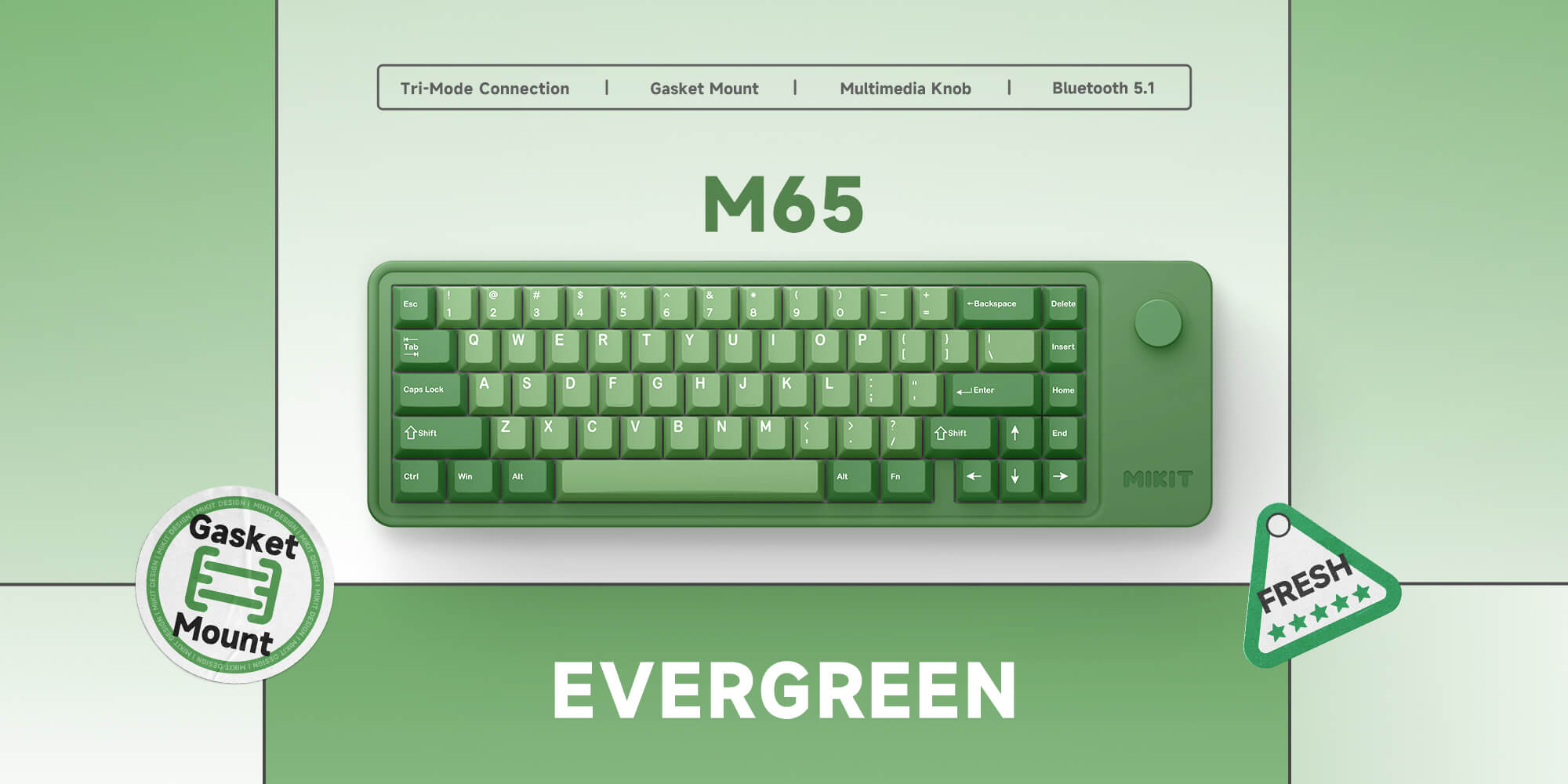 65% Layout And Ergonomic Design
65% Layout - 68 key layout, that does away with the function row and numpad but keeps dedicated arrow keys and a column of navigation and editing buttons. Rise up the feet when typing to get extra comfort. The extra media knob is convenient and intuitive for users to control video and music.
M65 Gasket Mount
Adopts a gasket structure that provides a comfortable keystroke feeling and excellent quietness. It is possible to enjoy the pure keyboard keystroke sound by reducing noise, vibration, echo sound, etc.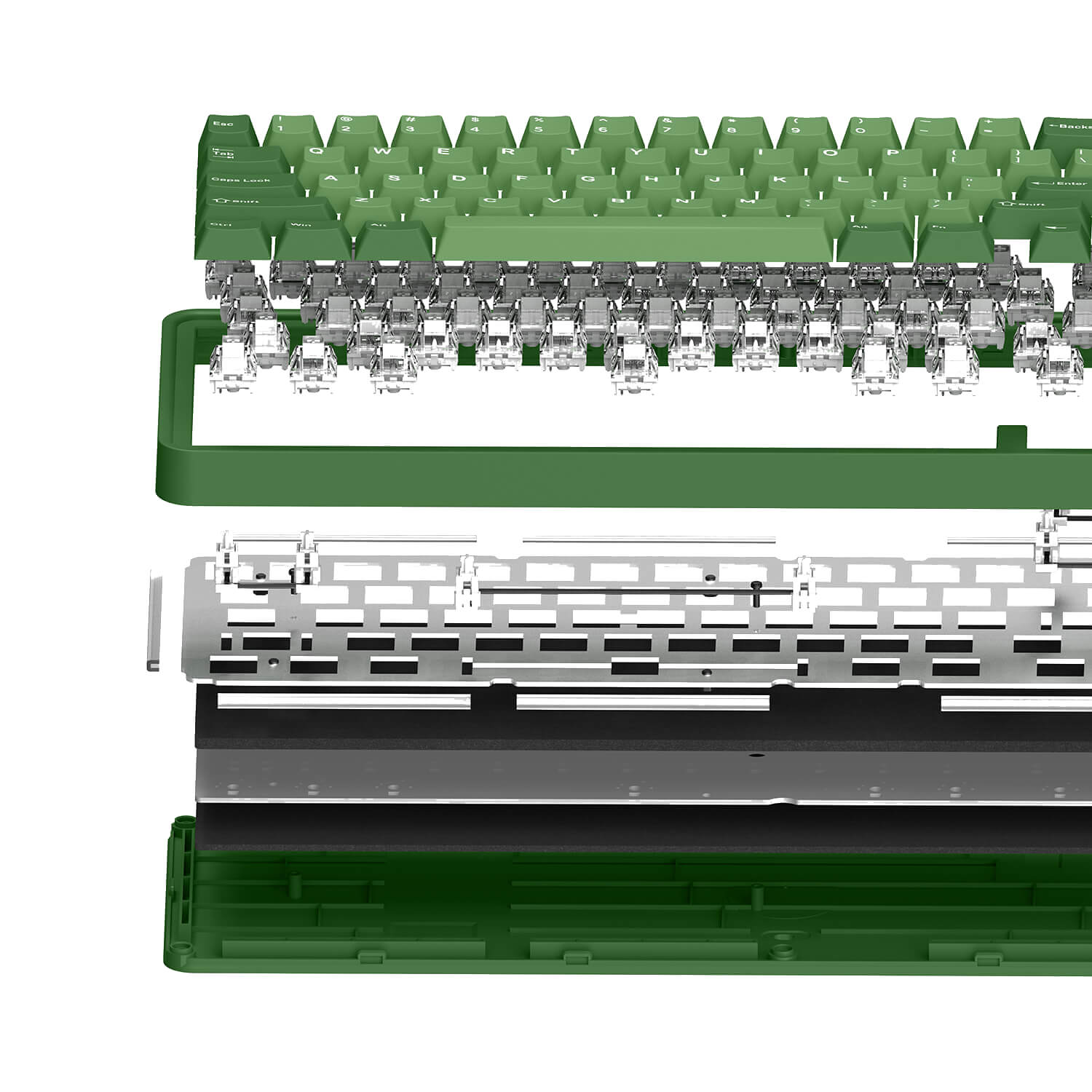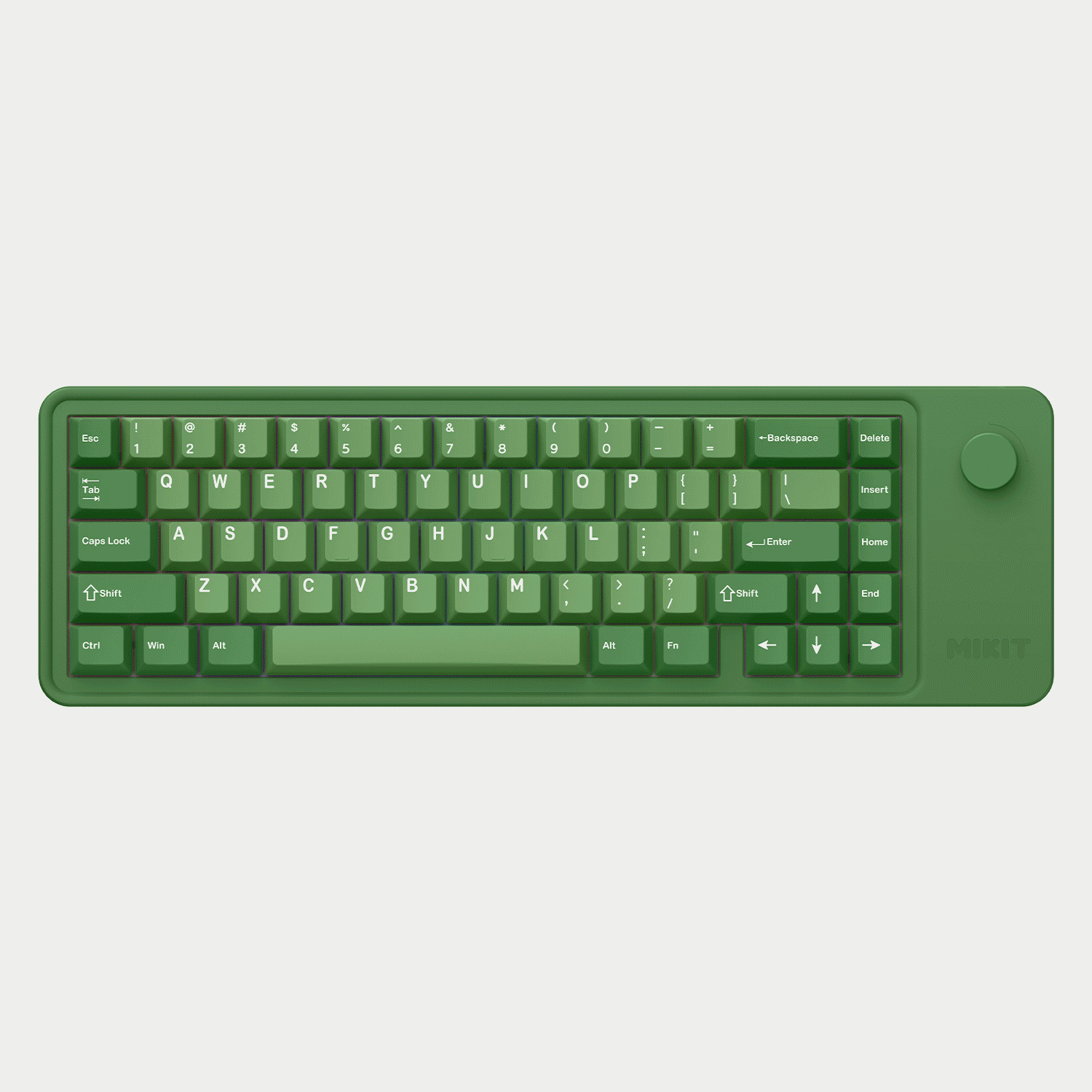 Personalized RGB
Built-in dynamic RGB effect, 7 modes, and 16 million colors can light up your senses. Response Time: 1ms (Wired & 2.4GHz) / 8ms (Bluetooth). Polling Rate: 1000Hz (Wired & 2.4GHz) / 125Hz (Bluetooth)
With 7 different types of RGB lighting and the ability to set multiple colors and rhythms simultaneously, you can create a personalized lighting experience that matches your style and mood.
Tri-Mode Connection
Multiple connection modes, including Bluetooth 5.1, Wireless 2.4GHz, and USB Type-C. Enjoy stable and fast responses while gaming or working. Allowing pair up to 3 devices at once and switch seamlessly between your computer, tablet, or phone with shortcut commands, which are great for multitasking. It works on Windows / macOS / iOS / Android.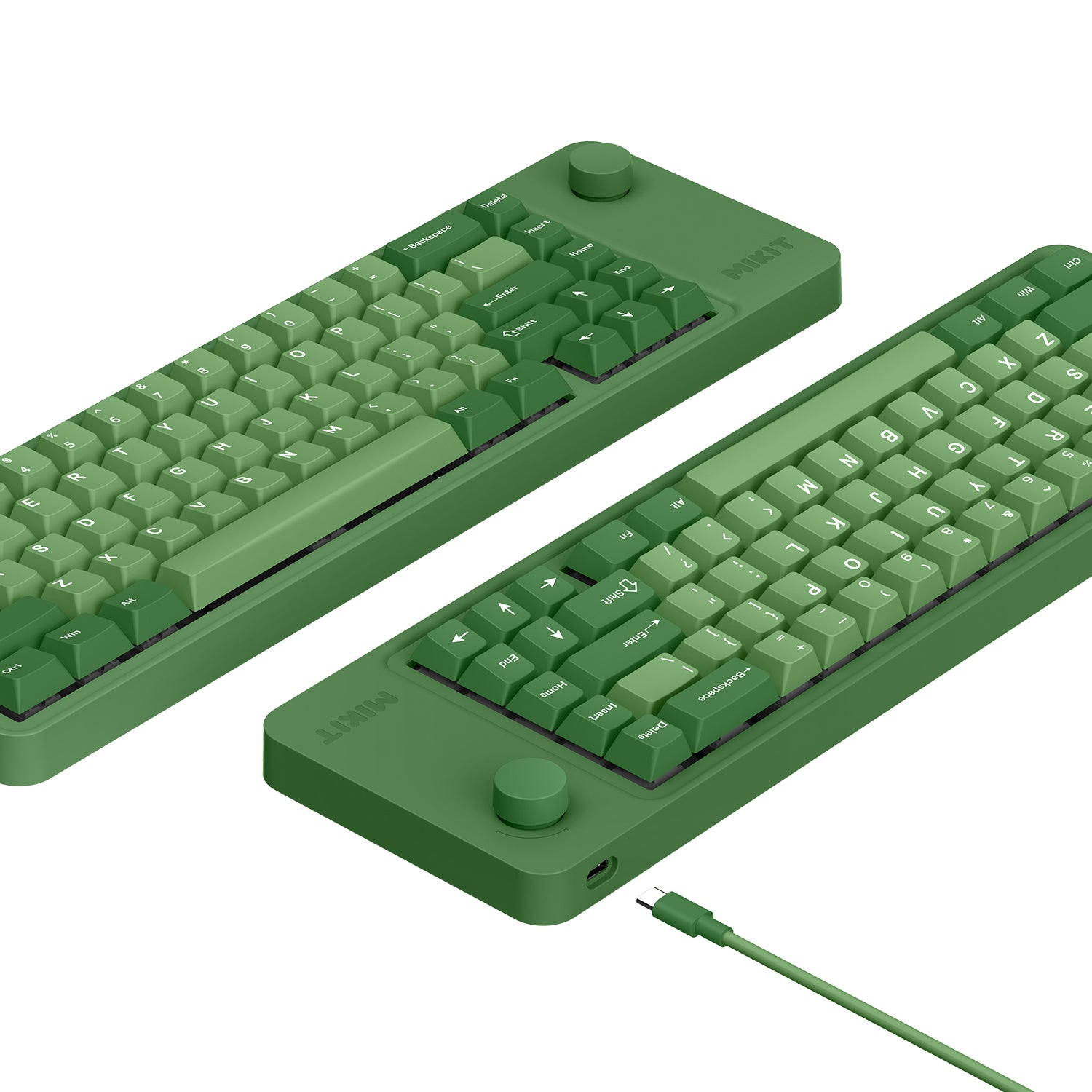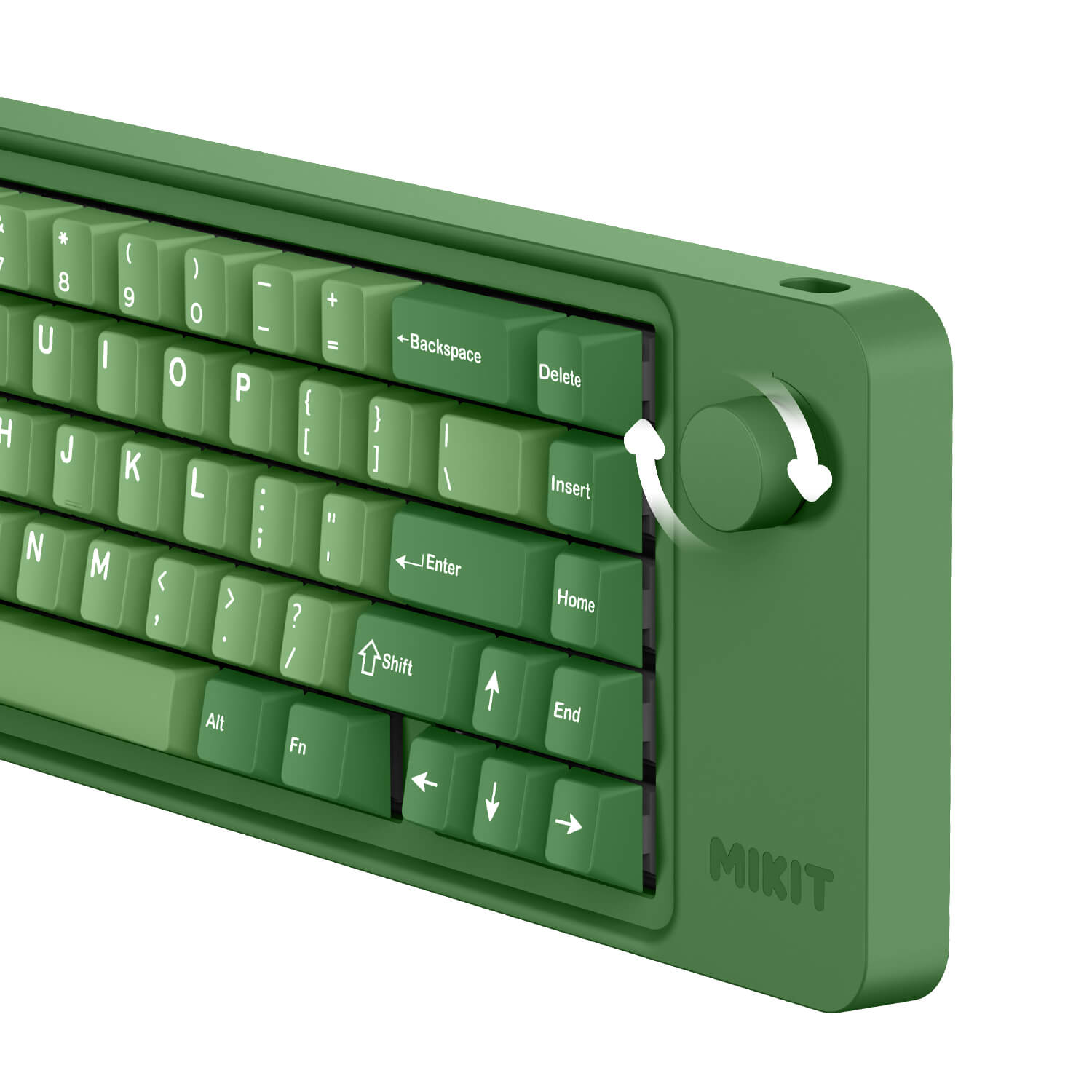 Multimedia Knob
Clockwise: Volume +
Counterclockwise: Volume -
Press: Play / Pause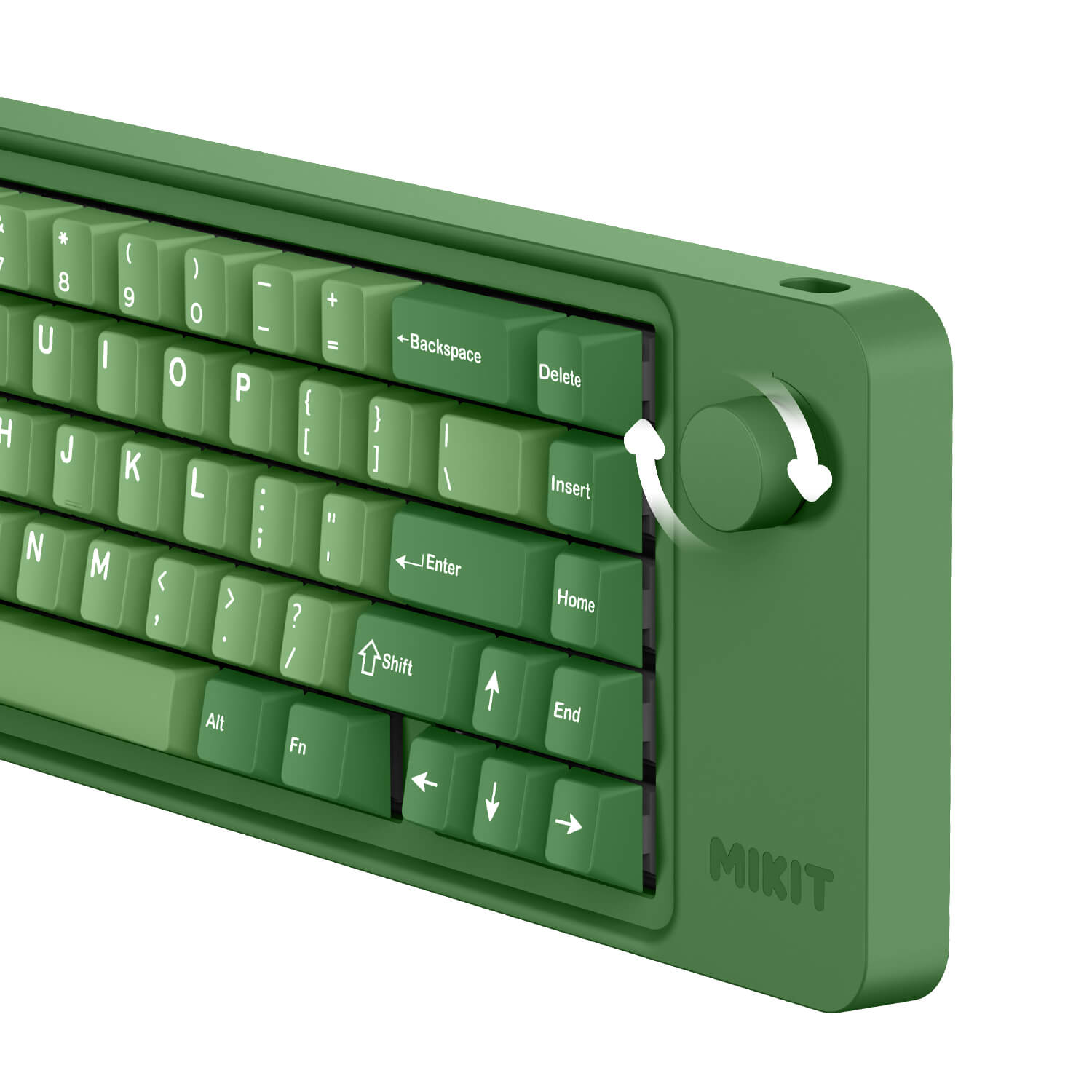 Multimedia Knob
Clockwise: Volume +
Counterclockwise: Volume -
Press: Play / Pause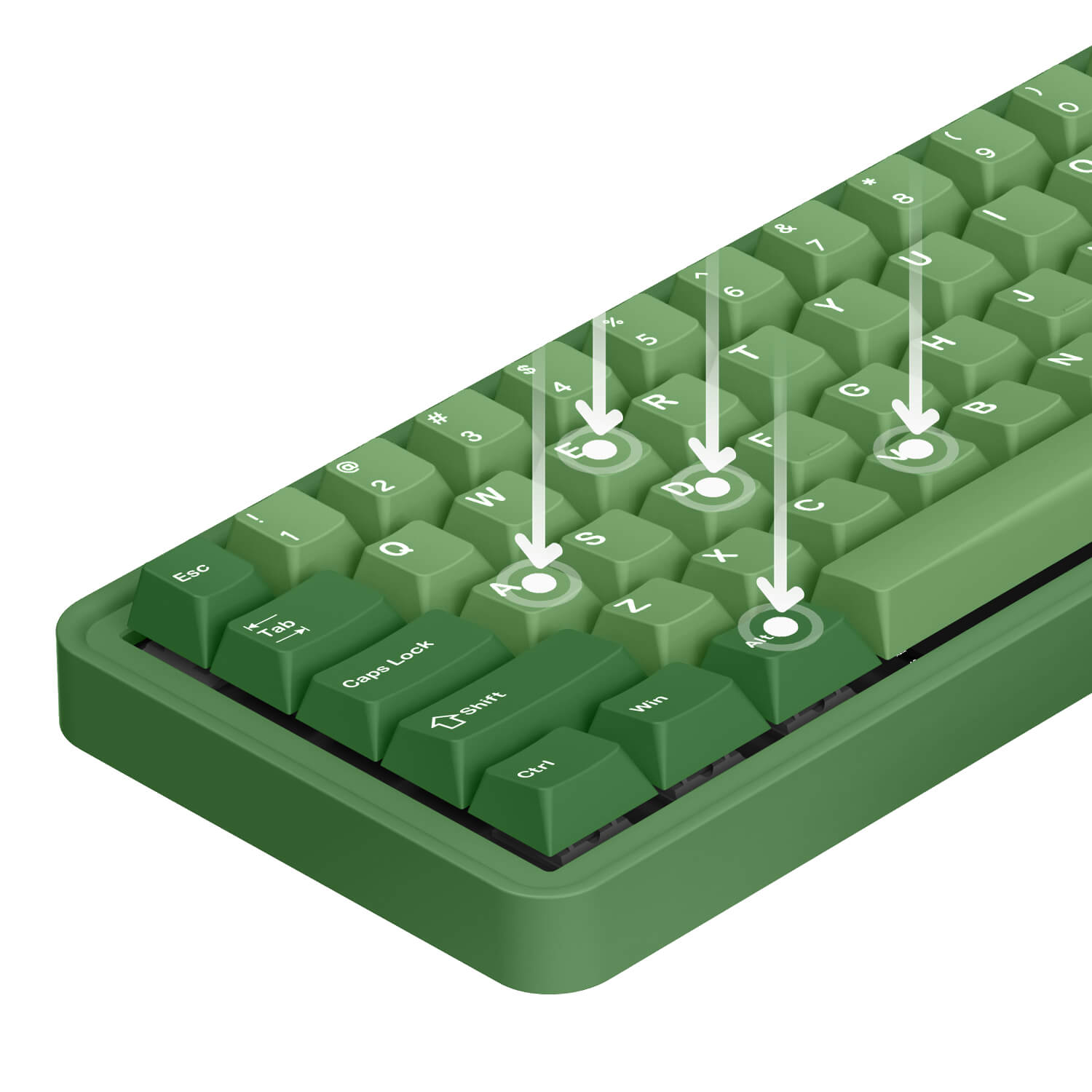 N-Key Rollover Design
It supports "N-key rollover" that recognizes all key inputs when multiple keys are pressed at the same time. You can use it with confidence not only for everyday use, but also for games that require quick response.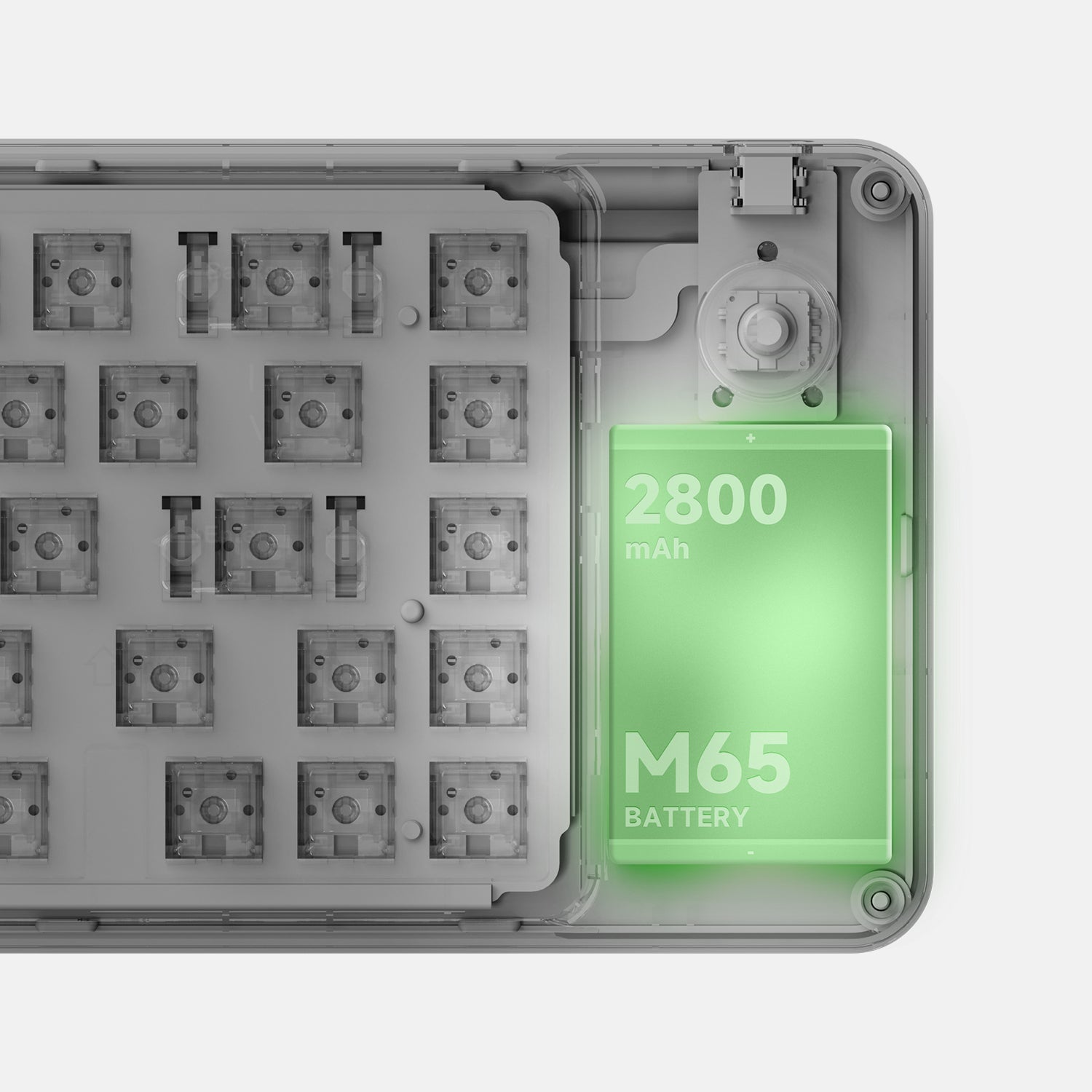 Long-Lasting Battery
The 2800mAh capacity Li-Po batteries last up to 25 days with a low power consumption module. (8 hours of use per day under Bluetooth connection with Backlit off)
Speed Silver faster, more stable, more reliable, prevent touch by mistake.

Linear / 45gf
Feel: Light
Sound: Soft
Lifespan:
100 Million Keystrokes

Gold Pink brisk and smooth. Being a switch with lightest operating force, the switch brings comfort and smoothness to long time typing & gaming.

Linear / 37gf
Feel: Soft and Smooth
Sound: Quiet
Lifespan:
100 Million Keystrokes
Holy Panda it is a switch with a strong sense of tactile, a strong sense of confirmation, smooth but not obtuse.

Tactile / 55gf
Feel: Heavy
Sound: Loud
Lifespan:
50 Million Keystrokes
G Pro2.0 Brown a hybrid between a Linear and Clicky switches. Does not generate a click when pressed, but the tactile bump is still present.

Tactile /55gf
Feel: Medium
Sound: Medium
Lifespan:
50 Million Keystrokes

G Pro2.0 Red it's lighter and softer than brown switches. The ideal switch for long-time typing workers and gamers.

Linear / 45gf
Feel: Light
Sound: Light
Lifespan:
50 Million Keystrokes
G Pro2.0 Blue for those who love the click and clack of a keyboard. Generates a loud click and tactile bump when a key is pressed. Popular for typing and programmers.

Clicky / 60gf
Feel: Heavy
Sound: Loud
Lifespan:
50 Million Keystrokes
G Pro2.0 Yellow it's a very smooth, quiet, vertical pressing sensation with no clicky feel. Good for working in the office, longterm typing, and even gaming.

Linear / 50gf
Feel: Medium
Sound: Medium
Lifespan:
50 Million Keystrokes
Gold Brown Pro is known as the "oil of all kinds" keyswitch. The rhythmic paragraph feel makes the mechanical keyboard more playable.

Tactile / 45gf
Feel: Light
Sound: Medium
Lifespan:
80 Million Keystrokes
Gold Red Pro is the origin of all linear keyswitch keyswitch, straight up straight down linear feel, factory lube, suitable for most people habits, product consistency is high, smooth and stable.

Linear / 43gf
Feel: Smooth
Sound: Quiet
Lifespan:
80 Million Keystrokes

Its just my type of design! Green is my love all the time. Feel sturdy and smooth. Gotta mention it is a pleasure to unbox it
I have left it the cart for so long and I finally bought it!!@ The size is just perfect, very nice to use in office.
Great keyboard build - I do miss the tilda key tho.
Great build quality. It was plug n play on my Windows and Linux machines. Function shortcuts are well designed. I didn't realize this at purchase time, but without the ~/` key, I can't really use this for development. That's really the only thing missing for me to fully endorse this keyboard and it's not necessarily an issue with MIKIT - I think this limitation is by design in this keyboard layout, but I don't really know... why.
Hi Murdoc, thanks for taking the time to share your feedback.
For the '~' key: please use the keys combo 'SHIFT + ESC'
And the other 2 keys were included in the keyboard.
Awesome keyboard
I was always curious about mechanical keyboards but didn't feel confident building one from scratch. I finally took the plunge and went for this one but I was nervous about whether the price tag was justified.
I definitely think it is. It was a joy to unbox, is beautiful and very fun/smooth to type on. I'm really pleased all around with this purchase and would recommend it.
Love everythin about it, except for being non-hotswappbale.