DK65
is a 65% gasket-mounted
wireless gaming keyboard
with innovative media knobs and a lively purple theme. Features premium mechanical switches, hot-swappable sockets, Bluetooth 5.1 and 2.4G wireless connection, and double-shot PBT keycaps. It houses a large 4000mAh battery that provides an extended battery life of up to 70 days with a single charge(using Bluetooth connectivity with all blacklight off).
Besides the trending compact layout and eye-catching design, The utility rotary Knobs & Slider is the highlight feature. They allow you to control your media volume and RGB brightness more conveniently.
After launch, the
DK65 keyboard
got a lot of attention from the customers. Let's have a look at what people think about DK65.
Using Experience when got the DK65
" 
Very well-made board.
Ordered the board about a month ago now and so far I have zero complaints. It's really well made and I couldn't be happier with the purchase.
Info on the board:
Weight: It's got a heaviness to it that makes it feel premium. Doesn't feel like a cheap plastic board you buy off amazon.
Typing sounds: I went with the gold pink switches. Has a silent creamy sound to it that I personally prefer.
Dial switch: Works as advertised. Have had no issues and it's sturdy to where to doesn't feel like it'll pop off.
Overall it's a board right out the gate that you don't need to mod. It's pretty great the way it is.
Score: 10/10 "
From Taylor Jacoby
"
Good Job, MIKIT
its unbeatable. It has everything I would ask for. REALLY handy when I got my hands on it. Experience in unboxing and daily use is fresh and unique. Would recommend it to someone who would like to add some color to their desk."
"Fantastic board, great price!
I seriously love it so far. I have been waiting on a Rama Works keyboard for 1.5 years, still nothing. I got this board in a week essentially. Will definitely order more boards from here in the future."
From Spencer Hutchison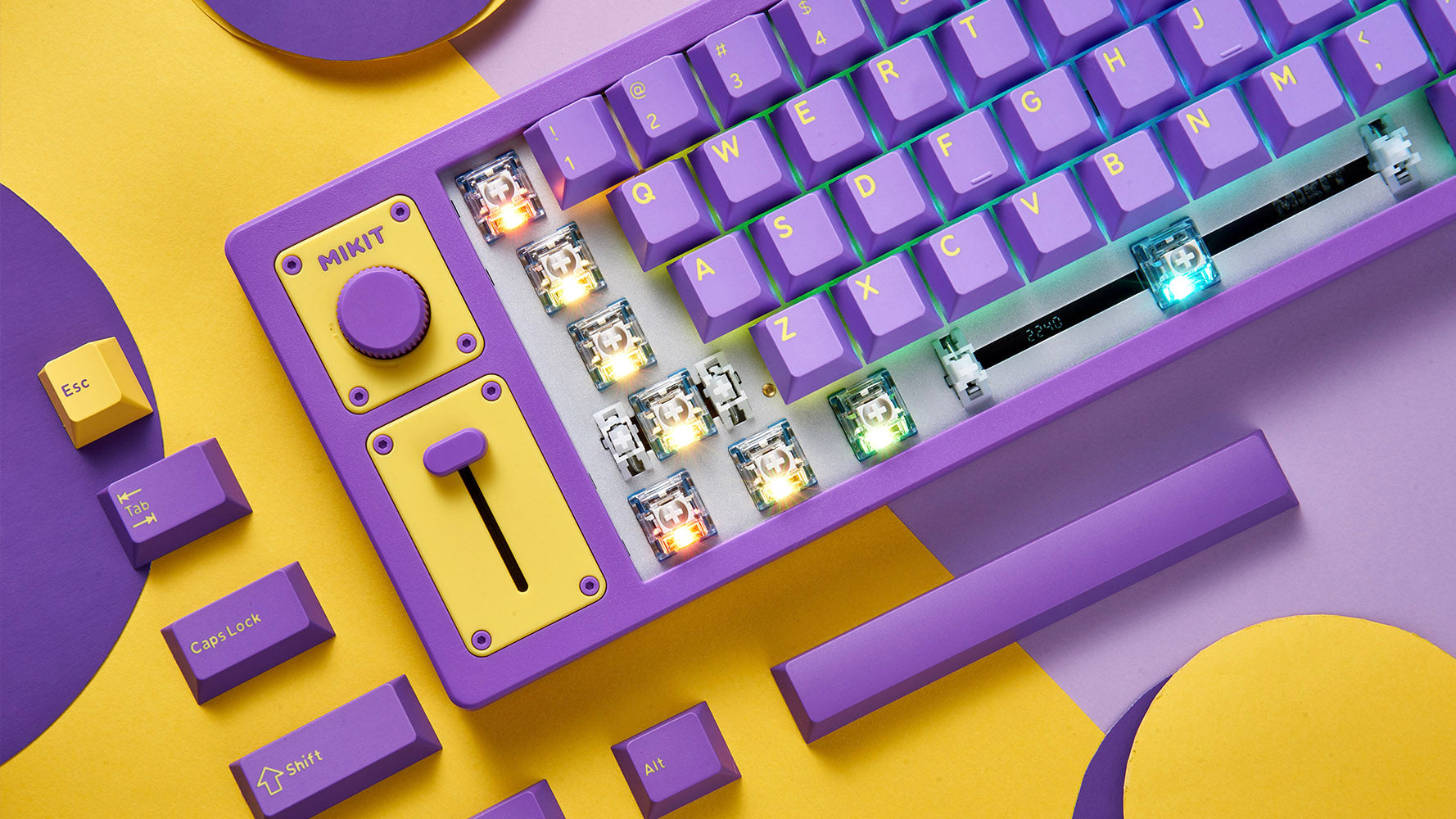 First Impression when see the DK65
"
The design looks quite nice, though Personally I would have preferred if you could choose between having 3 knobs, or 1 knob+1slider. as the design itself makes it look like this would be a option. "
"Love the look and that you went with a purple, lilliac and yellow palette.
Due to gamer aesthetics, and Neon Genesis Evangelion, a lot of Purple aesthetics are purple and neon green. This is a very welcome new addition
This keyboard doesn't look aggressive but rather welcoming to type on.
Also,I love that the button and slider sections are separated. Hope that the slider works well with macOS.
 "
"Absolutely love the design of the keyboard as a whole and also the colours. The strong contrast between the purple and yellow makes it such a statement piece in a setup!!
"
From mullertieze

"Colors are pretty sweet, I always liked purple and yellow. But the knob and slider are perfect:
1. Knob for volume just makes sense. Plus coming from guitar pedals, I love both knobs and sliders.
2. Slider for brightness is also super logical. Also, I find these two controls are used constantly throughout the day (albeit brightness more often on my laptop).
 "
"Gorgeous board, obviously the rotary features are cool as fuck but I also love the yellow accents on both sides that really bring together the colour scheme.
"
" Things I love the most:
- Wireless
- RGB, as I am a gamer
- Hotswappable, so I can experiment with the switches
- Gasket mount
Things I wish I could change:
- more colours. I personally don't feel the colour, but for the amount of features packed into this, I would gladly accept it.
"
From Mr__B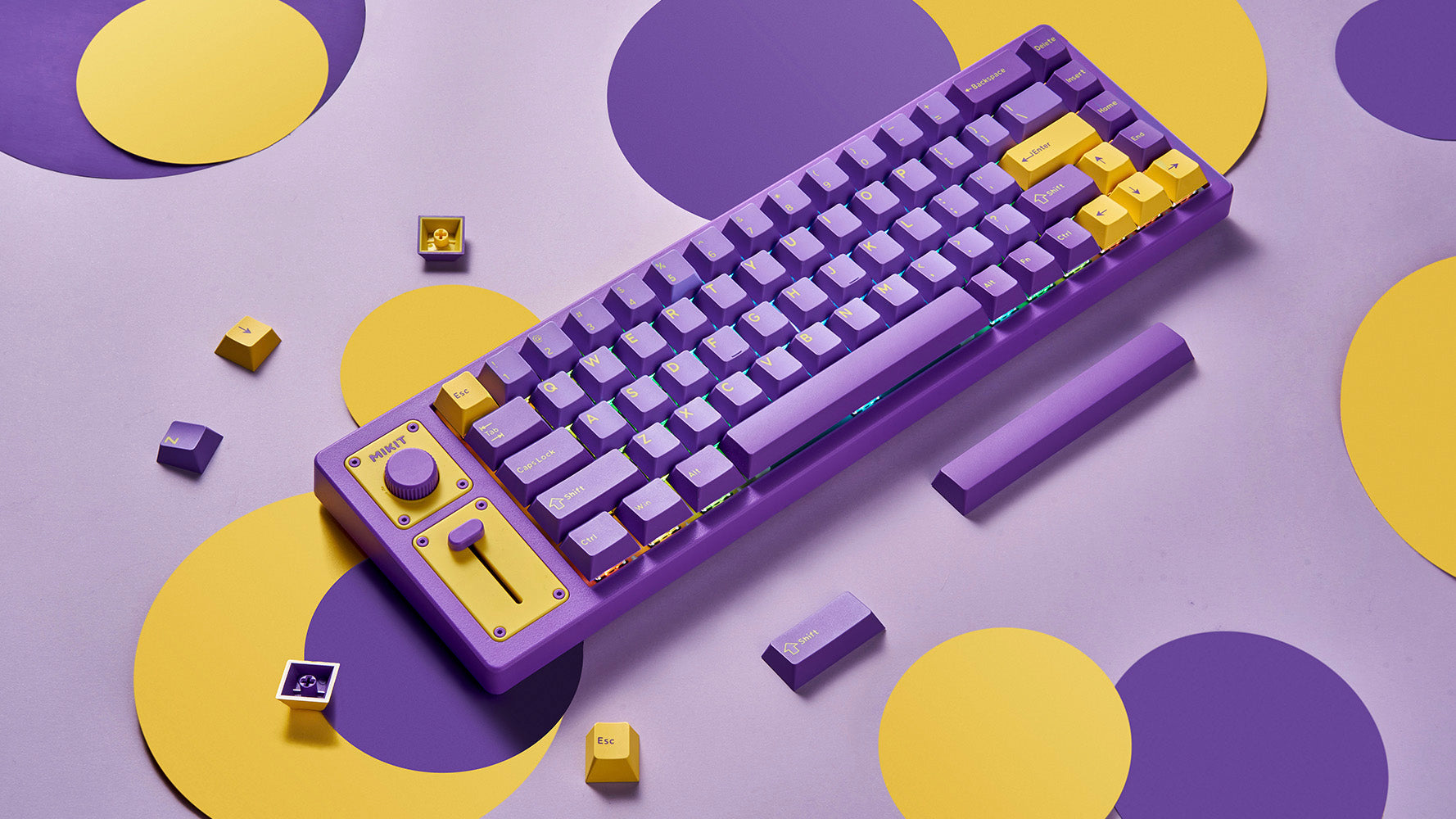 "The design is a classic of 65% keyboards, but the addition of a knob and a slider is a really nice addition, especially on the left to let the mouse have still the good amount of space needed for ergonomics and gaming. Good job! 
"
"Eye-catching! Purple and yellow works very well together. Especially when one color is just an accent to the other and not a full bi-color design.
Physical volume knob is a HUGE selling point for me when I look at keyboards. I've never liked volume buttons like on a laptop. Both my home and work keyboards have physical volume knows.
Knob placement on the left-hand side? That's a bold strategy, Cotton. Let's see if it pays off for them.
Slider is interesting. Definitely stands out as a unique design feature, it's a nice departure from all the mini buttons to control lighting like my two keyboards have.
 "
"That colour combination is really nice. Never realised purple/indigo would look this good with yellow.
Also sliders should be illegal on keebs. I'd fiddle around on all day.
 "
From Iris Rev 4